The Chapped Cheeks of Temperance
I have recently completed my fifth year as an actor and fourth year as a production hand at a haunted house attraction here in Birmingham Alabama. The venue is a real-life haunted iron blast furnace known as 'Sloss Furnaces'. There is a lot to tell about Sloss Furnace itself, or the ghosts, but I want to speak about the acting aspect at this time.
My first year, I was a zombie girl, and the second, a zombie soldier. These were really fun roles to play. Though I was working a scene by myself, I had lots of running around space. We had two, large plastic pipes on hand, and my body language would indicate that I was dangerous, and that the safe route past me was through the pipes. As soon as they ducked in, I would jump in behind them, scaring them half to death, while their friends laughed. I do not like to be mean, and being mean is a big part of being a haunted house actor. I prefer to get a laugh along with my scares. The haunt is big enough that they can afford to have a scene with a comedic aspect.
The third year, I was asked to portray a mean preacher in a woodsy church. I would admonish the patrons in a funny way, calling for a 'hand check', in which case all the teenagers would throw their hands up in the air to show that they were behaving. I was the distraction, while my partner jumped out and scared them. I would yell, 'Devilboy, bite that hussy on the butt!' and everyone would laugh as Devilboy would chase the girlies around.
The fourth year, though, I requested my acting position. I wanted to be the 'Gatekeeper'; the first person you meet as you begin our trail. This is a rather illustrious position to fill. My role was that of the furnace foreman. Patrons would pass through a house that we had built. As the gate opened, and patrons were let in, I would be on the front porch to verbally pick on them, but in a funny way. It was hot last season, and many men wore shorts. This gave me an easy target: 'Go home, son, and get your man pants. Those little sissy britches ain't gonna get it'. For couples, it would be something like: 'Hold his hand, honey, Bless his heart, he's skay-yerrrrd'. Or if a woman was the first through the gate, I would get them with: 'What kind of a man lets a woman lead the way into a haunted house?' Everyone laughed having a great time. It set a nice tone for the rest of the haunt. If patrons buy a 'Blood Pass', it means that we can touch them, and that they want a more extreme scare. As they passed my position I would tickle and spank the Blood Passes. A most formidable actress scene-mate would capture the BPs. We would hold them down and pretend to regurgitate food into their mouths. This was known as 'Momma Bird'. Nobody got mad.
The foreman role was fantastic, but I asked myself at the end of the season, if there was anything that could have made it better. The only thing I could think of would be if I were able to sing. I tried to come up with a role for myself, somewhere on site, that singing might be appropriate. We build with whatever material we can come up with, and we had access to lots of pallets, so we built a pallet maze. After we built it, we realized that it was similar to being in a cow stockade. The high, wooden walls were like a cattle chute. The scene, though, was not played well. I thought that would be a place that I could bring a lot of energy. I could be a singing cowboy! I knew then, that I would need to learn some rudimentary guitar, and make up some scary cowboy songs. I kept it in mind, and in May, I began to put my plan into action. I wrote a couple of songs, and while driving a truck on a long highway trip by myself, I practiced singing these songs at the top of my lungs. The last week of May, I went to a local music store and bought a beginner guitar. I looked up learning the guitar on the interwebs, and came up with: to make a chord, press three strings on the neck. If it sounds good, you have a chord. I could not figure out how to change chording while playing, so I would just make up a chord that sounded about right, and stay with it the whole song. I figured that if I strum properly, I could fake my way through.
Production work began the first week of August. In a warehouse, a small crew of us build and paint sets through the month in preparation for loading in to the site. At this time, I designed my maze. Included are hinged doors to change the path, sliding doors to block passages, and secret rooms. This maze was going to be ten times in size as the previous maze. I knew I wanted to be able to walk around on top, but I was not sure if that was going to be feasible.
The second week of September, with an increase in crew size, we began our load in to the site and the build itself. We only had three weeks to build our haunt. This was a daunting task, but it is that way every year. The pallet maze was just one of many things that I needed to build. It was very labor intensive. When my supervisor pulled me off that task, I would come in early to sneak in some extra work on it.
We are a tight crew. We had our own grill on site and during the entire pre-production, we cooked our own meals on site. Opening week, we were behind and struggling. On opening day, we were so busy, that we never made arrangements to eat lunch. We tried to make some kind of a food thing happen, but it did not. I had been busting my rear end without stop, all day. No food nor rest but one bottle of water. The time came when I had to quit working on production, and get into my costume. As I was going to be up on top of the pallet maze on a pallet catwalk, I did not want to wear cowboy boots. I wanted to wear my regular work boots, so to cover the boots, I got some black, fringed, cowboy chaps. This was the last week of September, and in Alabama, it is still hot. I had planned on wearing a black tee shirt, a long coat/duster, guitar and cowboy hat. While putting on my rodeo clown make-up, I realized that I was going to be too hot, so I took off the tee shirt. Now I am wearing no shirt under the duster. I get to my scene and we start. I am up on top of the pallet maze, playing and singing. I have a monster actor manning the exit door, and another actor monster with a chainsaw, inside the maze. I am soon drenched in sweat. The singing and playing requires more exertion than I had expected. I had no food that day, and had worked extremely hard. I had just sweated away what little water I had in my system. I knew that there was a good possibility that I was going to fall out and die, so I took off the duster. Now I am up on this pallet maze catwalk, following patrons around playing, singing, and teasing, wearing chaps, no shirt, a cowboy hat and guitar. The exit for the maze was hidden. People would come in, wander, and finally realize they were trapped. The maze was so big, that I had to put in three fire exits. Patrons would try to use these. I would severely chastise them. I also had the assistance of monsters on the outside of the maze that would keep the patrons corralled. We would make people sing us a song and say 'moo', before we would let them out. As opposed to previous roles, the cowboy is nice and friendly. I am only mean to the patrons that need being mean. It was so much fun! The patrons had a real sense of accomplishment when they finally escaped. At the end of the night, all the actors reconvene to call roll. An actress and actor of the night are selected. The actor coordinator, called me forward as actor of the night, opening night. He said he overheard several patrons comment 'I like that naked cowboy'. So that was it. For the rest of the run, even when it got cold, I was the naked, singing cowboy.
Here are a couple of my songs:
I'm a carnivorous cannibal carnival cowboy clown.
I'm a carnivorous cannibal carnival cowboy clown.
I paints my smile, upside down.
I'll give your skull a 'thunk', while I've got your neck bound.
I'm a carnivorous cannibal carnival cowboy clown.
These wooden walls, prove you made the grade.
Welcome to, my human cattle stockade.
Kids and calves, foals and fawn,
Gobble you up 'til you're all gone.
I'm a carnivorous cannibal carnival cowboy clown.
I'm a carnivorous cannibal carnival cowboy clown.
I'm a carnivorous cannibal carnival cowboy clown.
How's a pound of ground round sound?
I found it bound on the ground outside of town.
I'm a carnivorous cannibal carnival cowboy clown.
From your fingertips, to the toes of your feet.
Waste not, want not, eat every ounce of that meat.
Steaks and stews and barbecues,
Gonna gobble up every ounce of you.
Carnivorous cannibal carnival cowboy clown.
~~~~~~~~~~~~~~~~~~~~~~~~~~~~~~~~~~~~~~
You get a line, I'll get a pole, Honey.
You get a line, I'll get a pole, Babe!
You get a line, I'll get a pole,
We'll go down Sloss Furnace hole.
Honey, Baby, mine.
It's tooth for tooth, eye for an eye, Honey.
Tooth for a tooth, eye for an eye, Babe!
Tooth for a tooth, eye for an eye,
But I'll take me a slice of your pie.
Honey, Baby, mine.
If they have no bread, let them eat cake.
If they have no bread, let them eat cake.
If they have no bread let them eat cake,
But I'll have me a human steak.
Honey, Baby, mine.
I got a girl, down inn a hole, Honey.
I got a girl, down in a hole, Babe!
I got a girl, down in a hole.
It puts the lotion on its skin, when it's told.
Honey, Baby, mine.
You're Grade A Prime, you'll make the cut.
You're Grade A Prime, you'll make the cut.
You're Grade A Prime you'll make the cut,
Gonna bite that hussy, on the butt!
Honey, Baby, mine.
Gonna fatten up, my little herd.
Gonna fatten up, my little herd.
Gonna fatten up my little herd,
Gonna get a meal from Mamma Bird!
Honey, Baby, mine.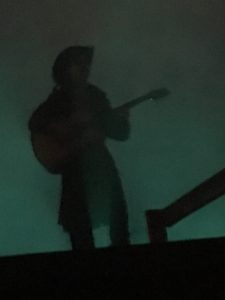 This is the only photograph of me as this role in existence. It is on one of two very cold nights in which I am still shirtless but with a pulled back duster.