NEW!
Volume Eight: The Title of Temperance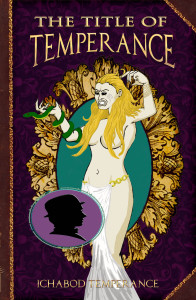 Ohhh, my noggin. What has happened? I took a whallop upside the head and woke up in a place far from my time and home. Instead of it being the modern era of 1877 like it ought to be, I am in the distant past of England's Dark Ages! There are mighty warriors in gleaming armour, and beautiful ladies wearing colourful gowns with taffeta secured dunce caps.
This is the castle Camelot! I am in the company of King Arthur and his majestic Knights!
Golly, can you imagine? Me, Ichabod Temperance, an Alabama tinker in King Arthur's Camelot!
Oh, Goodness, it ain't took too long before I already have trouble up to my hat's brim what with Mr. Merlin, Miss Morgana, and a big mean knight in black armour getting bristly with me. Gee whiz, if I ain't careful, I might end up wrecking there ever having been a Western Civilization!
The Title of Temperance at Amazon for Kindle for only $0.99!