Hello my friends.
A young lady in France by the name of Marie has a reading blog named 'Drizzle and Hurricane Books'. I am happy to be participating in her 'Souvenirs from Across the World' project. Marie's friends are invited to describe their hometowns and share local souvenirs. As I am an author of steampunk books, I thought I would point out a few local points of steampunk relevance.
I live in Irondale, Alabama, USA. This community lies directly against the Eastern border of Birmingham, Alabama's largest city and the place of my birth.
Birmingham has an unusual symbol of the city: a cast-iron statue of the Roman God, Vulcan. It was built for the 1904 World's Fair in Louisville, Kentucky. Standing 56 feet high and weighing in at over 100,00 pounds, he must have been pretty impressive, first hand. Poor guy, had a tough time after that. He was dismantled, shipped back to Birmingham and dumped alongside the tracks. In the twenties, he was reassembled at the fair grounds, but they put his arms on incorrectly. :-/
In the thirties, the city built a pedestal for him atop Red Mountain, overlooking the city. That is where he stands today, a magnificent statue. In fact, he is one of the largest statues in the United States. He proudly inspects a spear point he has just crafted at his anvil, as he looks out over the city. His apron leaves his bare bum facing the community of Homewood, on the other side of the mountain. 🙂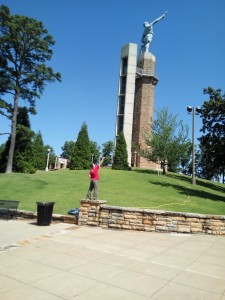 Something I find interesting is the base of a tower on top of an old, downtown building. I think I had always supposed this to be the base of a water tower, but I have recently learned that this is the base of a dirigible docking tower. There are very few such creations remaining, anywhere.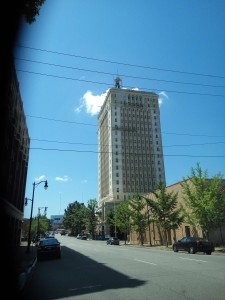 The third and last point of interest I would like to show is Sloss Furnace. This complex was built in the 1880's. This is an iron producing facility. Iron is a primary component of the steel industry. It takes an  uncanny amount of heat to separate the iron from the ore. One method is the 'blast' furnace. Super-heated air is forced beneath the melting furnace. 'Blast' refers to the forced air. Sloss Furnace is home to the largest steam engine on earth. Eight titanic pistons force a blast of super-heated air. It is a crazy facility. It is considered one of the most haunted places in the United States. It was such a Hellish and dangerous place to work and many workmen died there. I have been all over this facility many times, and it is endlessly fascinating. I always find things there I have not seen before.